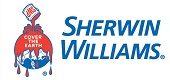 About Sherwin Williams
"From the very beginning I felt that I had struck my life work, and would not allow myself to entertain a thought of any other occupation. Then I kept in mind the [simple] motto, 'What is worth doing, is worth doing well.'"
—Henry Sherwin, on the occasion of the company's 50th anniversary, 1916
The popular Sherwin-Williams Color Chips campaign launched in 2010, with a series of animated television ads that transported audiences into worlds constructed entirely out of color chips. "Make the most of your color with the very best paint," the ads urged.
The year 2016 is a unique moment in the history of Sherwin-Williams — it's our 150th anniversary.
We are proud to honor our founders Henry Sherwin and Edward Williams, and the thousands of men and women who have shaped our company since 1866.